Please Read Me!
General Information
All students must be pre-registered for class, full payment is required at the time of registration.. To register you may come into the store and register in person, or you may register over the phone using a credit card. If registering over the phone please note we accept Master Card, Discover, or Visa. Please call us at 410-665-4633. We accept registrations Wednesday thru Saturday 11:30 am-3:30 pm
Please Note. Classes are subject to postponement or cancellation due to insufficient enrollment. If there are postponements due to weather, make up dates will fall at the end of the scheduled class dates.  (If you miss a class, and wish help with completing your project, arrangements can be made for a make up class at an additional fee of $40.)
Class questions? – Contact glassclass@verizon.net
---
NEW CLASS !!!             Skill level – Beginner 
Glass Painting with Frit, and Powder
Class Dates: Thursdays; Class …….  April 4th and 11th
Class Fee: $150.00        *Payment is due at the time of registration.
Class Time:  7 PM – 9  PM
"Two"  Classes in each session                                   Openings -6 For each session
Using crushed glass frits and powders has opened up a whole new world of artistic imagery.  Anything is possible when working with small particles of glass from tight photo-realism to loose impressionism.   Working on a 6″ x 9″ piece, you will learn how to control color density, shading, soft and hard edge lines and some unique specialty looks.
This class will touch on multiple firings to create a rich, vibrant panel piece.  There will be enough studio time to create technique samples and develop your own personal color palette for your piece.  Just imagine how you can expand these techniques to creation unbelievable wall pieces, tiles and continuous murals.  All supplies included.
Sample Patterns                                                                                                                                  
Other available Patterns
---
---
 

Beginner Class Level 1 

                

Skill Level – Beginner 

   
Class Dates: Mondays;  April 29th, May 6th, 13th, and 20th
Class Fee: $150.00        *Payment is due at the time of registration.
Class Time: 7 PM – 9 PM
Four
classes in each session                  Openings – 5
A beginner level class geared towards those who are looking to learn a new craft. This class teaches the Tiffany Copper Foil method. The session runs for four weeks, at the end of which you will have completed one of ten pre selected panels designed to teach all the skills necessary to move on to larger and more challenging projects.Home work is required between classes in order to finish project on time. Class size is limited to 6 students. Materials are provided the first night of class, after which students will be expected to acquire their own supplies.
Sample Beginner Class Projects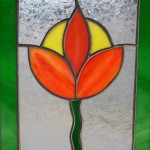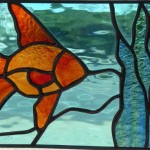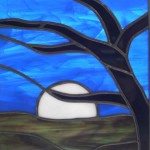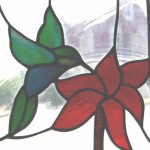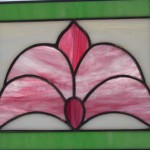 ---
Intro to Glass Fusing I                       

  
S
kill

Level- Beginner 
See sample projects in the Gallery
Class Dates:  Call store, to be placed on a waiting list
Class Time: 7-9 PM
Class Fee:$145.00
Openings: o
Our introduction to fusing class is designed to teach participants how fun and easy it is to fuse.   We provide everything you need to complete three projects so all you have to do is come ready to learn. All the basics will be covered including different techniques, glass selection and kiln operation. First night, Projects are 2 coaster size projects prepared for firing.  Second night projects include a Cabochon fired in class, as well a 6 inch piece. prepared for firing.  Designs are of your own making.   Class size is limited to 6 students.  (Glass cutting experience is helpful but not necessary.)
---
---
Fun With Fran                                Skill Level – Intermediate +
Class Dates: Tuesdays; February 19th, 26th, March 5th, and 12th
Class Fee: $160.00     *Payment is due at the time of registration.
Class Time: 7:00 PM – 9:00 PM
Four classes in each session                                           Openings- 0
If it has to do with copper foil, this could just be the class you have been waiting for. This class is designed for those with intermediate and advanced skills. This class will take you where you want to go. Build advance projects including panels, lamps, boxes, mirrors. Want to learn more, this class is for you. Class forum is open and relaxed, with students bringing their own projects, ideas, problems ect.. to the class. All students are expected to pre-register for this class. All students are expected to bring their own tools and supplies to the class unless otherwise instructed. Grinders will be provided. .
---
Intermediate Copper Foil Class
New Class:  Not Available at this time
Class Time: 7- 9 PM
Class Fee $150.00.
Openings: 0
Our intermediate copper foil class is designed to help students improve on skills learned in a beginner level course, with a special focus on improving cutting skills and soldering technique. Students are asked to choose a panel they would like to complete, but are limited to 16×20 in size. Patterns are subject to instructor's approval to ensure students will get the most out of the course. Students are expected to have their pattern and glass selected as well as their templates prepared prior to the meeting of the first class. Class size is limited to 6 students to ensure one on one instruction. Students are expected to bring their own supplies. Grinders are available for use during class time only.